MUDSTACLE RUN is a mud and obstacle course designed to drag you out of your comfort zone by testing your physical strength, stamina, and mental grit. With no podiums, winners, or clocks to race against, it's not about how fast you can cross the finish line, rather, it's a challenge that emphasizes teamwork, camaraderie, and accomplishing something almost as tough as you are.
So let one and all shed those fears and unleash their full potential with PLAZA MUDSTACLE RUN. Its an unique Endurance test which also packs as a Team Building event or a Fun Outing for employees or just a group of friends/collegaues out for a day with adventure. This is a limited time arena with the zone operating on alternate Sundays.

Next run date : To be announced soon
So use this opportunity to be a part of the most exciting Obstacle Course Run (OCR) and use it for your office Team Building, Team Outing, Family Day (Carnival games for kids and families) Incentive Program or JustLikeThat!! So book your slots now and have yourself or your team to be a part of the most acclaimed team building activity across globe.
Advantages of MUDSTACLE RUN
• Great for team building
• Excellent stress buster
• Self-endurance test
• Induces passion for fitness and running
• Finishers Medal gives a sense of achievement
• Water, Showers, Slush, ice gives big relief in heat
• Entertainment with DJ, MC, Carnival Games
• Filled with fun
• Great 4 both Men & Women
• Location advantage (Just off OMR)
• The Perfect Team Outing for all

All photos on https://www.facebook.com/f5ventureschennai/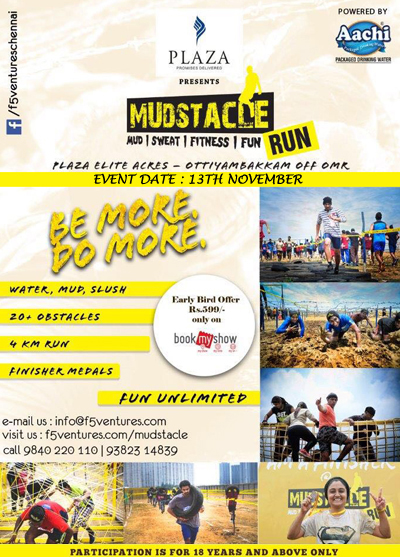 Event video on
https://youtu.be/5HGbgz30jE4